Onboarding Step 2.4 of 6: Configuring Your Data (KB-QA108)
Configuration Introduction
The configuration process will let you will choose how objects appear in vGIS AR.
The process is similar for all format types, as they share many common settings. However, there are a few format-specific differences. For example: for some data types, you will be able to customize object colors, and for others, the system will enforce colors from the original data source.
You can access the Data Source Mapping configuration page, by either clicking on the data source row, found on the main Data Source page or by choosing the Mapping icon from the action list for a row (Fig. 1).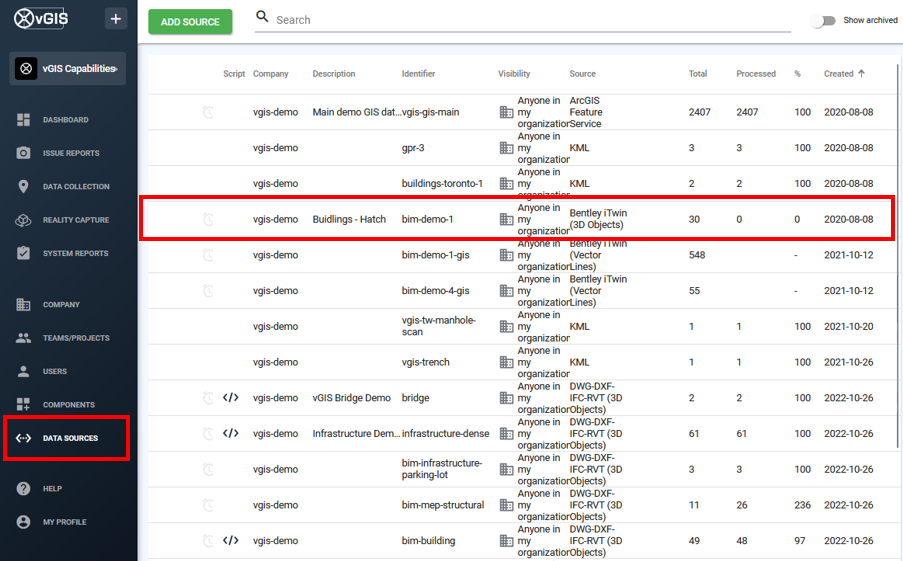 Fig. 1
In most cases, configuring your data set is a one-time event for each data source. If the data within the data source changes, vGIS can keep it updated automatically. Configuration updates are required only when the structure of the data source is updated.
The configuration process generally follows the following steps:
Perform data sync
Apply elevation settings
Assign Layer Groups
Apply type-specific configuration
Process data
Please continue reading this article to get details for each step.
Synchronizing Your Data
Once you have added a data source to vGIS, you need to synchronize it. Synchronization allows vGIS to understand the data source specifics - its layout, geometry, symbology, attribute structure, and other parameters.
To synchronize your data, press the "Synchronize structure" button (Fig. 2).
Please note: The sync process could take several minutes, depending on the size of your data source. You many need to re-synchronize your data sets if your data structure (but not the data itself) changed.

Fig. 2
Elevation Settings
Elevation settings are the key items you need to address when configuring your data. An incorrect elevation setting can result in your visuals looking oddly scaled or missing in the vGIS app.
To apply elevation for your data set, use the elevation and the vertical datum fields from the Root folder (Fig. 3).
Follow this link to learn more about the elevation settings.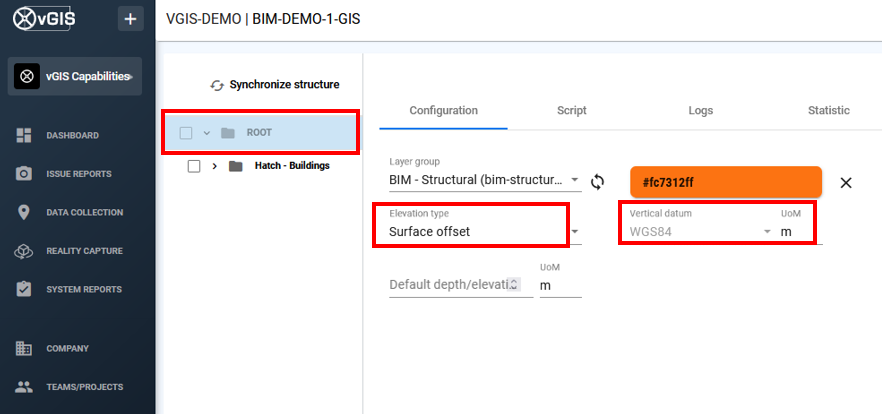 Fig. 3
Layer Groups
Layer groups organize objects so that vGIS users can turn multiple objects on and off at once. For example, if your data set contains water, sewer, and storm water assets, you may create Water, Sewer, and Storm Water layer groups to combine related assets in just three groups. You can always create more layer groups later (Fig. 4).
Why can't vGIS use GIS layers or BIM categories as is?
vGIS aggregates data from multiple data source, and it can't rely on categories, layers, and levels from source data. First, the categories in multiple data sets may not match. Second, there might be too many layers, and users may end up with hundreds of layers in the app rendering the app unmanageable. Organizing layers into layer groups helps avoid the issue.
To learn more about Layer Groups and how and why to apply them, follow this link.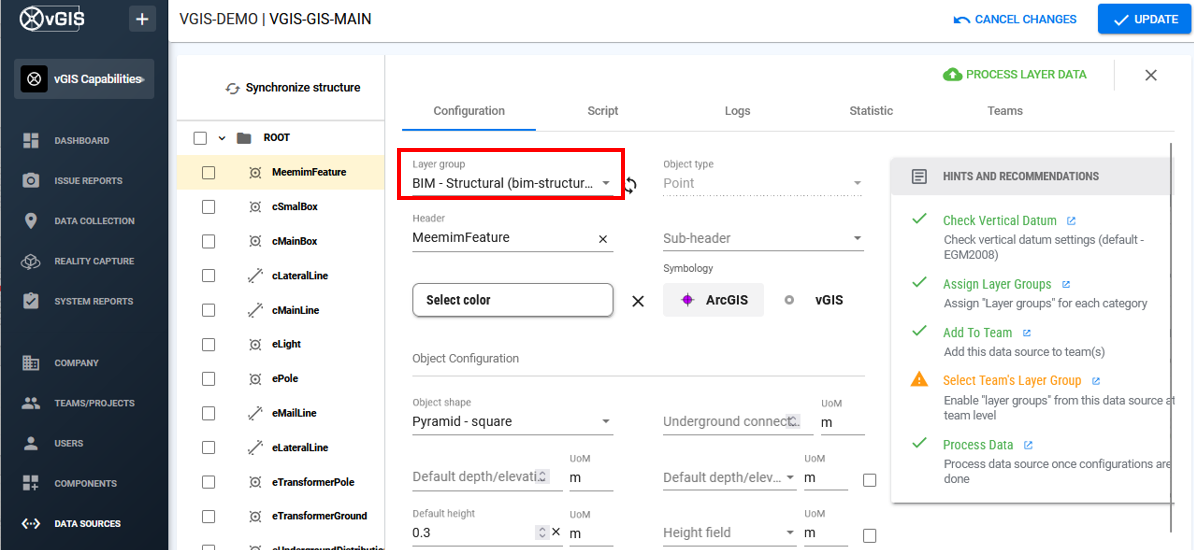 Fig. 4
Format Specific Configuration
The configuration process is similar for all format types, as they share many common settings. Some formats will require extra steps to be configured and some might require minimal work, as they will inherit all the configuration settings from the original source.
Follow this link to learn about each supported file type's configuration settings.
Processing Your Data
Once a data source has been fully configured, the final step is to process it (unless the data set is a "real-time" data set, then data processing will not be applicable). Every time you apply changes to your data configuration or the data changes, you will need to process the data source. vGIS can also do it automatically. There are multiple options to process your data:
Real-time updates - For cases in which data privacy/security is required. Only available for ArcGIS and WMS data sources.
Process data manually - When changes need to be pushed immediately for visualization.
Scheduled updates - For regular updates and to avoid data inconsistencies.
Real-Time Updates
vGIS allows for real-time updates from ArcGIS Online & Enterprise, as well as WMS sources. When enabled, vGIS will not cache GIS data. Instead, for every request coming from the end-user, vGIS will request data for the area directly from your GIS. This option is the best for high-security environments, but it may slow down the system for end-users, as vGIS has to request information from GIS and then wait to receive it before sending it to the end-user.
Processing Data Manually
To process your entire data source, you'll only need to click on the "Process Data" button in the upper right corner of the screen (Fig. 5).
Please note: Data processing can take several minutes depending on the size of your data source file.
Since processing your entire database can take several minutes, the Process Layer Data feature allows you to process the data of a single layer. To process a single layer's data, select the object layer from the Data Source List, and click on the "Process Layer Data" button in the top right corner of the page (Fig. 6).
Scheduling Datasource Processing
Administrators can choose to schedule the data source processing to avoid data inconsistencies.
To schedule the data source processing, access the Data Source side menu and click the Edit call-out for the data source you wish to schedule.
Next, click the Scheduling tab, and enable the "Schedule Data source Processing" (Fig. 7).

Set the schedule processing frequency.
Please note: Data Source Scheduling will not work with file-based (e.g., DWG or KML) and Real-Time data sources.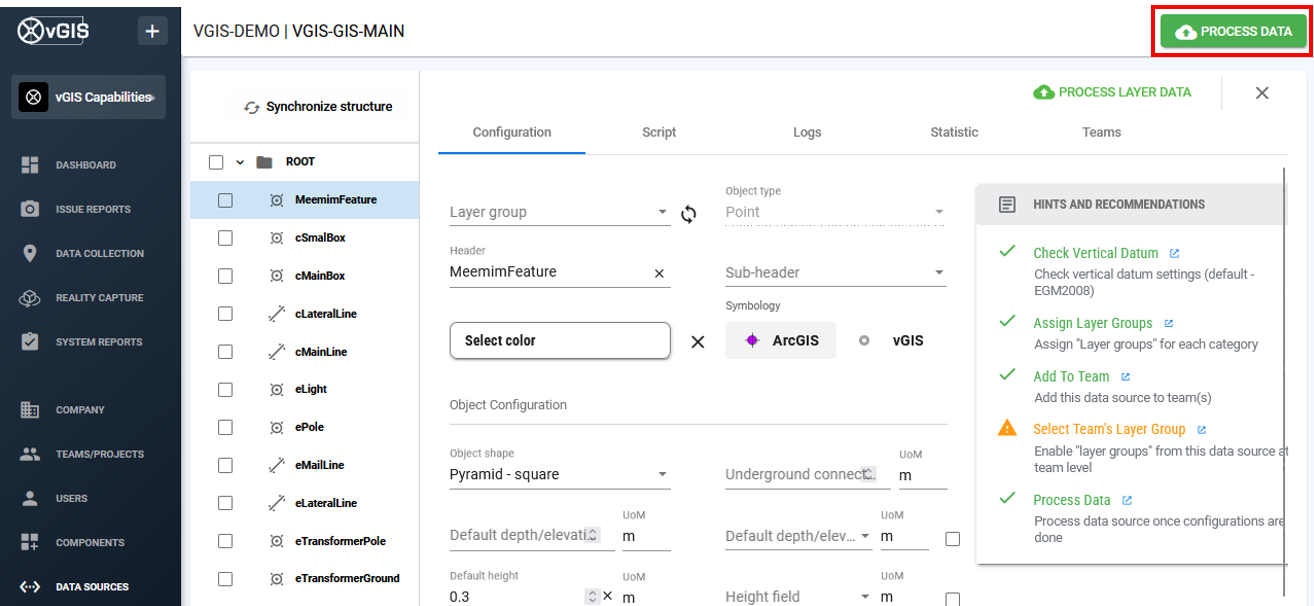 Fig. 5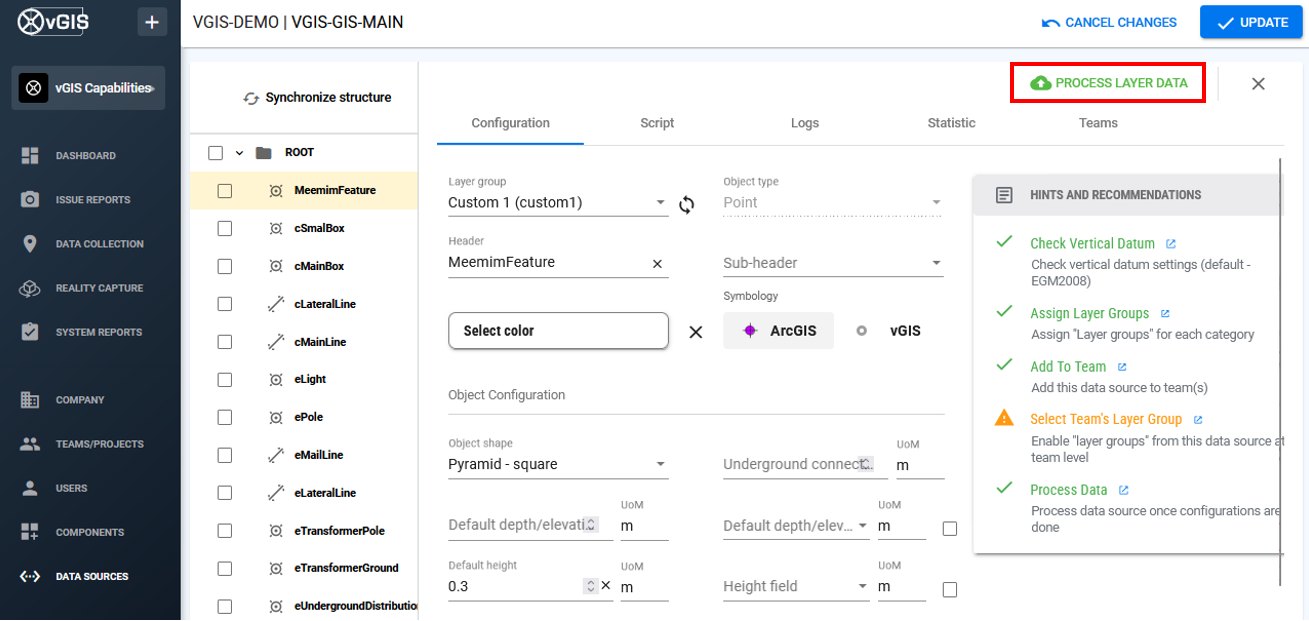 Fig. 5

Fig. 7
Have questions? Use the "Feedback" form at the bottom of this page to to ask questions or report issues.
Follow the link to access vGIS Onboarding table of content.