High-precision GNSS/RTK settings (KB-GI009)
vGIS supports external GNSS and RTK devices for added precision. Jobs that typically require high-precision hardware include high-accuracy work with survey-grade data, inspections of long pipelines and precision construction.
First, you'll need to enable a high-precision GNSS/RTK device by connecting it to your phone or tablet using the Bluetooth or cable and, in case of some devices, running required background app.
Once connected, launch vGIS Utilities. From the main menu, click options and then "High-Precision GNSS/RTK" (Fig. 1).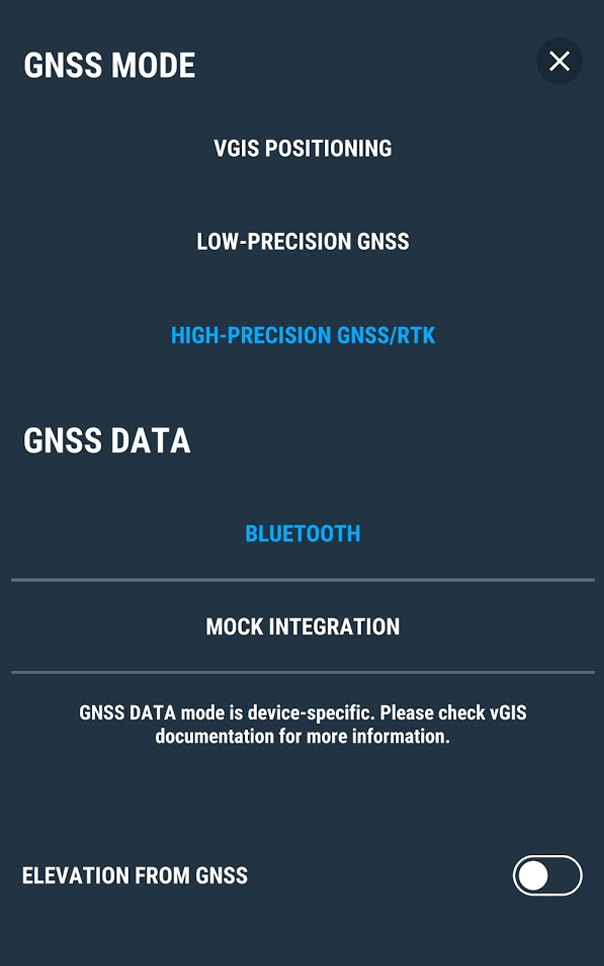 Fig. 1
Use the following reference to choose the "GNSS Data" setting:
| | | | |
| --- | --- | --- | --- |
| GNSS Type | Platform | Calibration Setting | GNSS Mode |
| Internal GNSS | Android | vGIS Calibration | |
| | iOS | vGIS Calibration | |
| | HoloLens | vGIS Calibration | |
| Generic External GNSS | Android | Low-Precision GNSS | Bluetooth |
| | iOS | Low-Precision GNSS | Bluetooth |
| | HoloLens | vGIS Calibration | |
| EOS Arrow 100 | Android | Low-Precision GNSS | Mock Integration |
| | iOS | Low-Precision GNSS | Bluetooth |
| | HoloLens | vGIS Calibration | |
| EOS Arrow Gold | Android | High-Precision GNSS | Mock Integration |
| | iOS | High-Precision GNSS | Bluetooth |
| | HoloLens | HoloLens Bridge | |
| Leica GG04, GS18 | Android | High-Precision GNSS | Bluetooth |
| | iOS | High-Precision GNSS | Bluetooth |
| | HoloLens | HoloLens Bridge | |
| Marxact UNI-GR1 | Android | High-Precision GNSS | Bluetooth |
| | iOS | N/A | N/A |
| | HoloLens | HoloLens Bridge | |
| SXBlue II | Android | High-Precision GNSS | Bluetooth |
| | iOS | N/A | N/A |
| | HoloLens | HoloLens Bridge | |
| Stonex S10 | Android | High-Precision GNSS | Bluetooth |
| | iOS | N/A | N/A |
| | HoloLens | HoloLens Bridge | |
| Topcon HiperSR | Android | High-Precision GNSS | Bluetooth |
| | iOS | N/A | N/A |
| | HoloLens | HoloLens Bridge | |
| Trimble Catalyst | Android | High-Precision GNSS | Mock Integration |
| | iOS | N/A | N/A |
| | HoloLens | HoloLens Bridge | |
| Trimble R1 | Android | Low-Precision GNSS | Bluetooth |
| | iOS | N/A | N/A |
| | HoloLens | vGIS Calibration | |
| Trimble R2, R8s, R10 | Android | High-Precision GNSS | GNSS Direct |
| | iOS | High-Precision GNSS | GNSS Direct |
| | HoloLens | HoloLens Bridge | |